Be your own boss
Follow your dream of business ownership with the support of the world's largest - mobile coffee franchise in the fast growth coffee industry.
Cafe2U now provides opportunities for small business entrepreneurs in New Zealand who deliver great coffee and food to businesses, events and functions.
Over 200 franchisees worldwide are now running their own successful mobile coffee van business using Cafe2U's mobile coffee franchise system without the hassles of landlords, staff or rent.
Recently awarded best value franchise system by Smart Investor Magazine, a Cafe2U Franchise has no hidden costs including a Mercedes Benz Vito van, all inclusions and set up costs.
All exclusive territories have equal business opportunities, the variation depends on how many hours you wish to work. The difference is entirely up to you.
The model is built around the working week, so revenue from events and weekend activities can significantly increase earnings potential.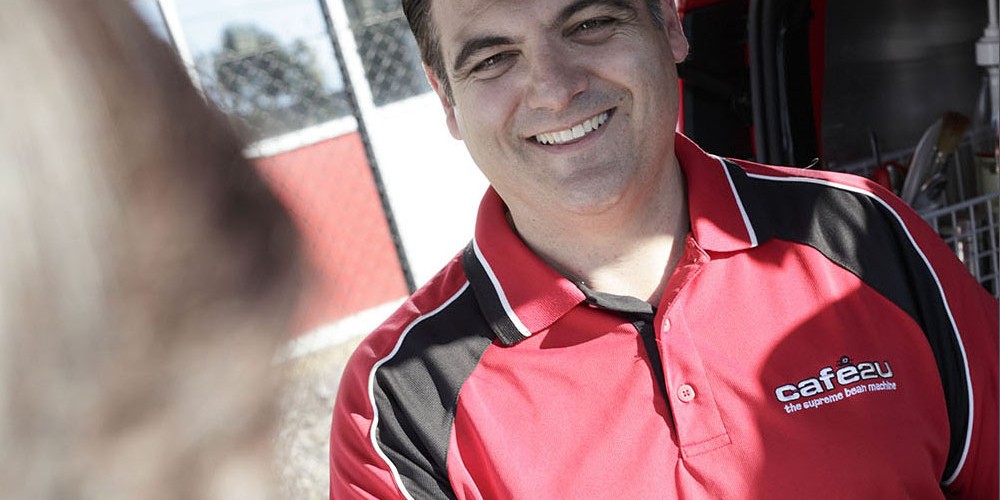 Acceleration Package
Fast track your mobile coffee franchise with the unique Cafe2U Acceleration Package.
The Cafe2U Acceleration Package is a unique four week training and support program for all new Cafe2U Franchise Partners to ensure that your business is off to a flying start.
In response to the common question: "how do I get started?". Cafe2U has developed the Acceleration Package to help you make the most of your coffee franchise opportunities.
Already successful in launching over 40 franchises around the world, the Cafe2U Acceleration Package provides new Franchise Partners with:
An income guarantee for the first two weeks of business
A Franchise Development Manager (FDM) – a personal coach and mentor to help you get up and running
After 2 weeks (5 days/week, Monday-Friday) of training (1 week in the classroom and 1 pre-work), your FDM will spend a further 2 weeks (5 days/week, Monday-Friday) working with you in your territory to show you the steps to build a sustainable business, right from the moment you climb into your Cafe2U mobile coffee van.
The Acceleration Package means that Cafe2U Franchise Partners benefit from the rewards of business ownership and capitalize on franchise opportunities sooner.
To find out more about the Cafe2U Acceleration Package call us on 09 973 4823.
Territories
Exclusive territories with a sufficient customer base to meet the needs of a successful franchise
We have a unique territory-mapping program based on the most successful of our Franchise Partners. This allows us to provide you with an exclusive Cafe2U territory, which we know will provide a customer base sufficient for the needs of a successful franchise.
Exclusive territories allow you to choose your area (where still available) and never compete with other Cafe2U Franchise Partners. With Cafe2U your neighbors are your teammates, not your competition.
There are territories available all over New Zealand in both metro and regional areas.
To find out more about the Cafe2U Territories call us on 0800 004 388.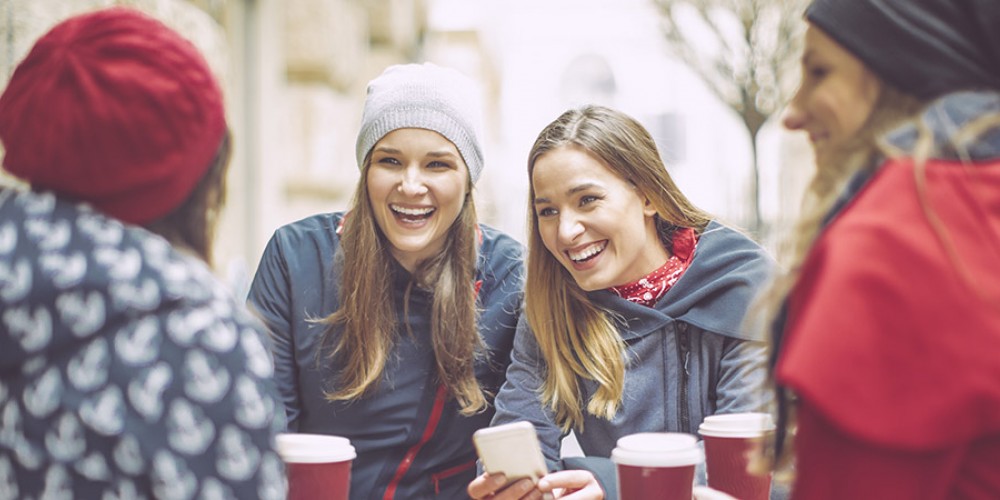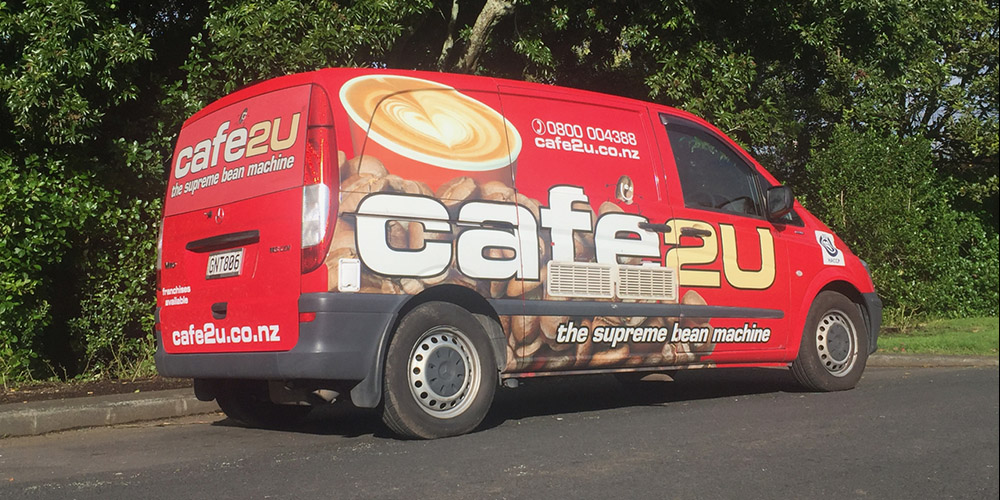 The Van
State of the art European Commercial Coffee Vans and top quality exclusive products.The Van
Each new Franchise Partner is equipped with a state of the art European Commercial Van fully compliant with all Food Safety and Local Government Regulations and featuring:
Commercial 2 group espresso coffee machine.
Top of the range, quiet gasoline generator
High grade commercial food display and storage refrigerator
Commercial on-demand coffee grinder
Cash drawer
Food grade metal fittings throughout
Dedicated hand washing facility
Water supply and filtration system
Product storage containers
Fire extinguisher
First aid kit
Air horn
Waste water system
Complete vehicle corporate branding
Built to comply with NZ standards relating to mobile food vending
Highest quality interior construction and fittings
Events display materials
Branded marquee
Branded flying banner
Product
The exclusive Cafe2U blend is roasted to a unique recipe that uses only the finest beans, winning bronze at the highly acclaimed CSR Golden Bean Coffee Roasting Competition in 2010.
All Cafe2U branded products are made with only top quality ingredients to ensure that the food and beverages served are of the highest standard.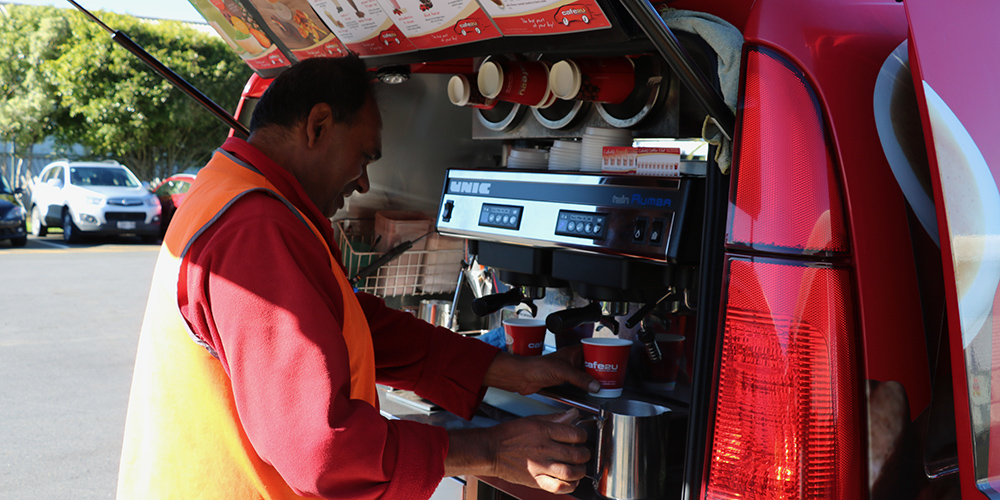 Health and Safety
Cafe2U was the first Mobile Coffee Van Franchise System in Australia to achieve Hazard Analysis and Critical Control Points (HACCP) Food Safety System Certification - an internationally recognized method of identifying and managing risks.
HACCP is part of an active food safety program that provides the public with a high degree of comfort that food safety is being taken seriously and is being well managed.
The Cafe2U food safety program is so much more than just HACCP. To be more effective, all sub-systems, recall protocols, hygiene and cleaning programs have been developed and implemented.
Cafe2U maintains its accreditation with BSI (British Standards Institute), the global leader in HACCP ISO certification.
This means that you can rest assured that Cafe2U is not only the best quality, but also 100% safe.
To find out more about the Cafe2U Coffee Vans and Product call us on 0800 004 388 or click below to request more information.
Costs
What does the cost of a Cafe2U franchise include?
We make it easy. Our fees are structured so you know what you're paying up front, there are no hidden costs!
INITIAL START UP COST
$55,000–$150,000 + GST (Van Dependent)
• Secondhand or New Mercedes Benz Vito van
• All customised equipment & fittings
• Initial franchise training of 3 weeks
• Development, launch and documentation fees
• Start-up uniforms
• $1000 worth of start-up stock
• 4 week minimum earnings guarantee
All costs associated with the registration, insurance, running, maintenance, and repair of a Café2U van is the Café2U owner's responsibility.
NB. The above price is subject to change due to market conditions & is an investment guide only.
FLAT FRANCHISE FEE + GST
$802+GST per month – Our monthly fee are structured low to encourage your success and growth and to ensure we remain competitive within the mobile coffee franchise industry. This amount remains the same for the 5 years you have the Franchise. We do not charge a percentage of your earnings. We charge a set fee so you will always pay the same no matter how much you earn.

FLAT MARKETING FEE + GST
$130+GST per month – this fee is payable into theCafe2U National Marketing Fund and is used to drive national marketing programs, access to our marketing team, and to assist local activities aimed at driving sales for your business.

FRANCHISE TERM
You receive an initial 5 year Franchise term, with another 5 years on renewal (a total of 10 years) included in your initial Franchise Fee.

All exclusive territories have equal business opportunity, the variation depends on how many hours you wish to work. The difference is entirely up to you.
The model is built around the working week, so revenue from events and weekend activities can significantly increase earnings potential.
Once you start the discovery process, you will be able to speak to current Franchise Partners to discuss the earnings potential.
Cafe2U was also awarded Best Value Franchise System by Smart Investor Magazine in December 2010.

To find out more about Cafe2U Success Stories call us on 0800 004 388 or click below to request more information.
Training and Support
Ongoing training and support from your personal Franchise Development Manager
Each Cafe2U Franchise Partner receives a comprehensive 4 week training package which we have named the Acceleration Package. Why? Because we have proved that our training program propels a new franchise partners revenue to a level that previously took a number of months to achieve
1 week of classroom training, incorporatingProfessional barista training
Safe food handling (HACCP Certification)
Food management systems
Franchise Partner training manuals
Business operations manuals
Business development manual
Launch promotional pack
Business management training
1 week Franchise Partner (in territory) pre work conducted under supervision of the Franchise Development Manager
2 weeks in territory launch program with a Franchise Partner Development Manager to fast track the development of the business
2 weeks minimum of $500 per day Franchise Partner Revenue Guarantee
The training and support does not end after the initial launch.
Each Franchise Partner is allocated a Franchise Development Manager who is an experienced coach and mentor for Franchise Partners who works alongside them to help build up their business.
Cafe2U's Franchise Development Managers have extensive experience in the Hospitality and Coffee Industry. They implement a structured process of Business Enhancement that ensures your investment grows to its full potential.
Your Franchise Development Manager is on call for help, questions and support. They also visit each Franchise Partner quarterly to document success and plan for improvements and growth.
National Marketing Campaigns Drive Growth
Franchise Partners are supplied with a marketing Tool Kit to facilitate building their local business while being backed by mainstream branding campaigns.
The Franchise Partner marketing fund has elected representatives (Franchise Partner Advisory Council) that ensure funds are spent on the most relevant strategies to develop all Franchise Partners in all areas.
Cafe2U is a member of Franchise Association of New Zealand and Restaurant Association of New Zealand.
To better understand what goes into buying a franchise, take a look at the FANZ Pre-entry Online Education Programme.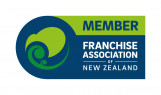 Available Franchise Locations
We have exclusive territories available in the following regions:
North Shore

Auckland

Waikato

Bay of Plenty

Wellington
Existing business for sale:
For enquiries please call:
Andrew Morgan
Mobile: 022 419 3156